Biography
Experience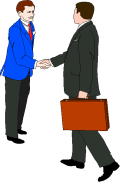 Richard Gahagan retired after a 30 year career with the Federal Bureau of Alcohol, Tobacco and Firearms (ATF). His career began as an Inspector in 1971. While an Inspector and a Senior Inspector, his duties included the qualification of distilleries plants, wineries, breweries, wholesalers and importers. He also conducted audits of these businesses to evaluate whether the correct amount of Federal excise tax was paid; the products were made in accordance with Federal and State production standards; and that the products were labeled in compliance with Federal regulations.
Having completed the graduate program at California State University, Fresno in 1982 majoring in Enology, Richard was promoted to ATF's Wine Technical Advisor and assigned to the Domestic and International Trade Division of the Office of Alcohol and Tobacco, in Washington, DC. From it's creation in 1982 until his retirement in 2002, he is the only person to hold this position.
As ATF's Wine Technical Advisor, his responsibilities included advising the wine industry, State and foreign governments, and other Federal agencies on U.S. wine regulations and production. This involved working with many domestic and international wine related issues, including the evaluation of new wine-treating materials and processing technology.
In 1983, he served as part of a Federal government interagency wine committee that successfully negotiated the first bilateral wine accord with the then European Economic Community. The interagency committee included representatives from the United States Trade Representative's Office; the Departments of State, Agriculture and Commerce; the U.S. Customs Service; Food and Drug Administration; Environmental Protection Agency and the Bureau of Alcohol, Tobacco and Firearms. As the scientist of the group, his responsiblity was to address the EEC's concerns relating to our winemaking practices.

Prior to retirement, Richard was also part of a similar interagency wine committee that is in the process of finalizing a new accord with the European Union. He successfully showed the European Union officials that the US industry's use of dimethyldicarbonate, fumaric acid and anion exchange posed no health or safety concerns and, under the proper regulatory system, could not be used to compromise the integrity of wine.
He represented the United States Government and the U.S. wine industry at the expert groups Food Safety, Wine Technology, Wine Microbiology, and International Code of Oenological Practice at the Office International de la Vigne et du Vin (OIV), headquartered in Paris, France.
Also, he was part of the United States' delegation to the Food Additives and Contaminates Committee (CCFAC) of the Codex Alimentarius Commission (CODEX), headquartered in The Netherlands, which is part of the Food and Agricultural Office (FAO) of the United Nations. His responsibility was to provide advice to the U.S. Head of Delegation regarding beer, distilled spirits and wine additive and contaminant issues.
In addition to his day-to-day activities, he served on the board of the Viticulture and Enology Research Center (VERC) at California State University, Fresno; the Technical Projects Committee (TPC) of the American Society for Enology and Viticulture (ASEV); and the Grape Germplasm Advisory Committee of the United States Department of Agriculture.
His tenure with ATF included participation in over two hundred ATF sponsored compliance seminars covering an array of topics including record keeping, bonding requirements, changes in businesses that require reporting to ATF, taxes, labeling regulations, enological practices, importing and exporting, laboratory analysis, and distillation.
He developed and teaches a wine and brandy regulations class which is part of the enology curriculum at California State University, Fresno. This is the only such class offered in the United States. For several years he also taught the Federal requirements part of the UC Davis' "Winery Start-up" extension class.
He coordinated symposia for American Society for Enology and Viticulture annual meetings on such diverse topics as Winery Sanitation; Importation of Bulk Wine; Exports and Laboratory Analyses. He has spoken at industry meetings in California, Michigan, New Mexico, New York, North Carolina, Oregon, Texas, Virginia, and Washington. Representing the United States government, he has given beverage alcohol related scientific papers and presentations in Belgium, Canada, France, Italy and New Zealand.

Education
BS degree, Industrial Technology, California State University, Fresno, 1971


MS degree, Agricultural Chemistry (enology option), California State University, Fresno, 1982
Awards
Alumnus of the Year, Enology Program, California State University, Fresno, 1988


Secretary of the Treasury Award, by Treasury Secretary Robert E. Rubin, 1995


Secretary of the Treasury Award, by Treasury Secretary Lawrence H. Summers, 2000


Outstanding Professional Employee Award, by Director Bradley A. Buckles, Bureau of Alcohol, Tobacco and Firearms, 2000
Albert Gallatin Award, by Treasury Secretary Paul H. O'Neill, 2002
Industry - Government Liaison Award, American Society for Enology and Viticulture, 2002
Click here to see what the United States Bureau of Alcohol,Tobacco and Firearms says about Richard.
---
Copyright © 2002 by Richard M. Gahagan Richard Gahagan Beverage Alcohol Consultant winery complianceRichard Gahagan Beverage Alcohol Consultant distillery compliance